Carbon Click are a New Zealand based company, born to make climate action simple and transparent for businesses and customers alike, supporting the planet and humanity through projects we all care so much about. CarbonClick works with projects that individually align with at least three Sustainable Development Goals and are protected for 50-100 years. This means the investment has a long-lasting effect on the environment and the communities they are located.
The climate crisis poses a major challenge to all industries, especially the apparel industry. We take our responsibility to look after the planet very seriously, which is why we've committed to reducing our GHG emissions.
Part of this commitment is analysing a decarbonisation pathway for our supply chain in alignment with the 2021 UN Fashion Industry Charter for Climate Action, drawing on methodologies from the Science-Based Targets Initiative. This is really important as it means our targets to reduce GHG emissions are in line with the level of decarbonisation required to hold the increase in the global average temperature above pre-industrial temperatures.
How Carbon Offsetting Works
Offsetting is a way to compensate for carbon emissions. To do this, we support projects that positively impact the environment and reduce or avoid carbon emissions that would have otherwise contributed to climate change.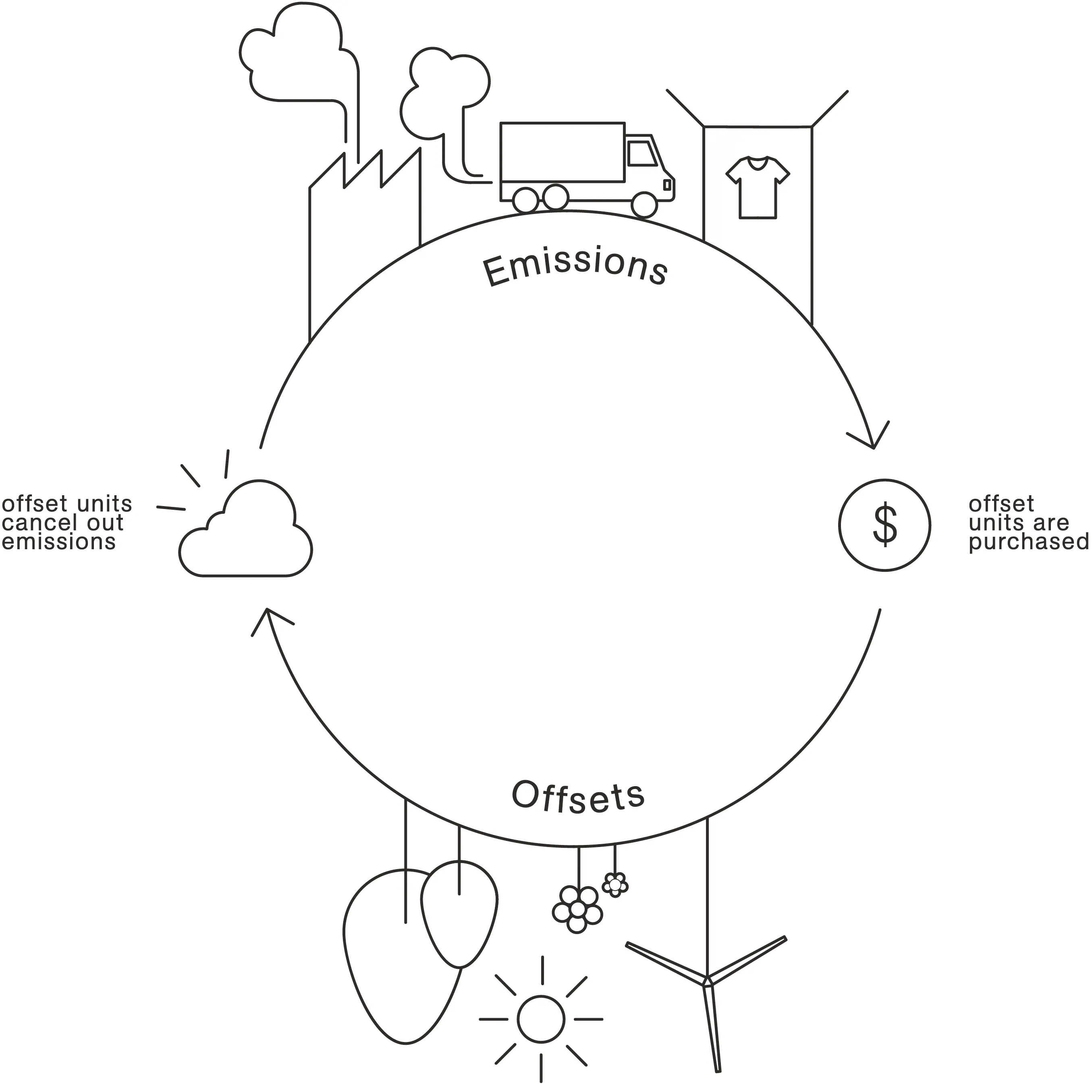 How Can You Contribute?
We have integrated a green button at our check out so that customers can offset their orders with us, connecting you to our journey. Through this process, we will be able to gain a better understanding of offsetting integral parts of the business and calculating our footprint and solutions. This supports the work we are already doing on reducing our GHG emissions and enables you to contribute towards offsetting the carbon impact of their purchase, so you can shop carbon neutral.
Customers who include a carbon offset in their purchase, receive a confirmation email with a unique traceability link detailing where their contribution has gone. Our blended baskets mean 50% of contributions go to reforestation and 50% to high impact clean energy projects. The projects we have chosen to support all have links to the makeup of our company.
Together we have
planted 3,395 trees.
Our contribution will remove approx.
67,900kg of carbon this year alone.
Projects we Support Through CarbonClick:
Projects we Support Through CarbonClick:
Banks Peninsula Forever Forest
190 hectares property that has been retired from grazing and is being reverted to native forest.

Preserving this native forest improves the water quality of nearby rivers and coastal waters.

This ecological restoration has been supported by local marae, Ōnuku Rūnanga, highlighting the importance of retiring this sensitive land.

Natural regeneration will return this land to a vegetation cover similar to that before the forest clearance by human settlers.

Being a New Zealand owned and operated company it is important that we had a project local to our roots.
Sichuan Household Biogas Programme in China
This project helps Chinese farmers recycle farm waste into clean energy

All households involved get access to clean, reliable biogas for cooking and heating.

10,000 jobs created by this project, to create and maintain the biodigesters.

The generators generate high quality organic fertilizer for local farmers.

Fifty percent of AS Colour production is done in China. Most of the factories we have used for many years.
Creating Hot Water with Solar Energy in Bangalore, India
This program delivers solar water heaters to Indian communities and businesses, helping to avoid the burning of coal and providing cheap renewable energy for poor families.

91,124 solar heaters installed, generating free, clean hot water for schools, households and hospitals.

By reducing dependency on coal power, 140,000 tonnes of CO2e is avoided per year.

Power cuts are commonplace in India but with solar water heating, families are guaranteed a source of hot water throughout the day, improving their quality of life.

We use cotton from many different countries but India is where majority of our Organic Cotton is sourced.